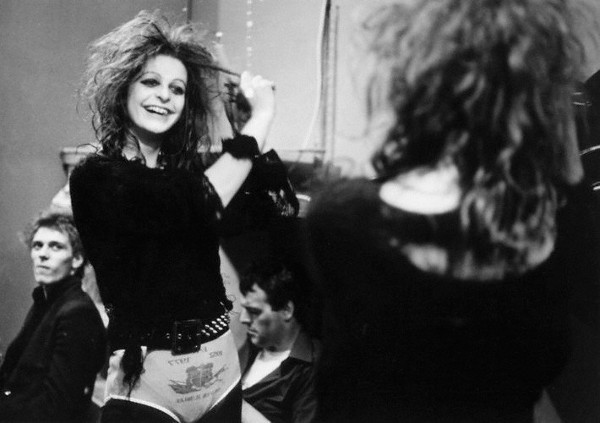 I haven't allowed myself to think about the fact that Ari Up is dead properly til tonight, just over a week after her death on October 20th.
Now I'm in my bedroom on a rainy Autumn Friday night, about to be evicted from my third flat in my two years in London, listening to the Peel Sessions, and thinking that despite the fact that the trials and tribulations of London seem to be winning at the moment, I wouldn't want to be anywhere else, and that Ari Up and the Slits are part of the reason why I'm here; I walk around this city with their songs as a soundtrack in my head a lot of the time.
"Typical Girls…don't create, don't rebel. Who invented the Typical Girl?". I've had a stressful month or so, not feeling very confident about my choices in life, and what I'm doing. Just listening to that song reminds me that I'm on the right track.
I've already done at least two posts about the Slits on this blog, see here for romantic musings/review of the Slits book by Zoe Street Howe, and here for a review of the mind blowing one-time-only show the Slits played in Auckland, NZ in 2007.
The Slits were the topic of the one and only zine I've ever done (Adventures Close to Home). I was so obsessed and inspired by them I carefully documented every fragmented detail that I could find, and took at least a year to make the zine. I was disappointed with the result to say the least, but it is hard to capture that unbelievable feeling a band like the Slits can give you when they first come into your life. I kind of wish I'd just kept my obsession to myself, but oh well.
Ari Up was the orginal rebel. She was a freak til the very end, and I doubt there is anyone to compare to her. After seeing her live in 2007, I realised that she was the real deal. she wasn't trying to please anyone except herself (and not in an asshole way, she was so kind and amazing with the crowd that night). What more could a girl ever aspire to be?
Her ad-libs in the Slits songs often made an amazing song actually perfect. Who could forget the "I pissed my knickers" line at the end of "Shoplifting", or "I forgot the words now…" on Love und Romance. She came across as un-selfconscious, brave, extreme.
But I don't mean to overshadow the Slits' music with Ari's public personality. What would '70s punk have been without The Slits? And let's not forget, they were one of the foremost pioneers of dub-by funky, post punk experimentalism. While I'm definitely more of a fan of their earlier recordings, their influence and importance on that genre of music is obvious. And I admire Ari Up, and for that matter the rest of the band for always hammering it home in interviews that the Slits were an overlooked band, because they were women, because they weren't taken seriously, because they were wild. Why shouldn't it be said? The Slits were an amazing band musically, they were feminist pioneers (despite the fact that earlier in their careers they distanced themselves from that political stance), and a lot of great things today wouldn't exist without them.
What is the world without Ari Up? She's someone that I've never imagined dying. I suppose partly it's cos she was so young, and hardly anyone even knew she was sick. It's hard to take in, and I still feel really shocked by it. I feel like I need to do more to mark her death. She inspired so much of everything I care about in the world, in terms of music and queer/girl/diy/punk culture. Who would I be without Ari Up? It's an interesting thing to ponder.
At this time, with the Torys sweeping in and effectively ghettoising and killing anyone not brought up with a public school education and a silver spoon, and in NZ our own conservative Prime Minister smiling and joking benevolently with all the racist talking heads in the media, I feel that the Slits song "Number 1 Enemy" best expresses my views:
"You sit up there deciding my future, what the fuck do you think you are? Changing buses, raising taxes, doing things as you please. You want me to be part of it, like all the people did, you want to swallow me, but you might get indigestion. I'm gonna be your number 1 enemy, oh for the hell of it, I'm gonna be your number 1 enemy, oh for the hell of it. Give me 10 and I'll take 100 give me 100 I'll take 1000 never mind what you say never mind what people think. Don't try to be nice to me cos I'm your enemy, don't be inflexible cos I'm gonna kill. Cos I'm gonna be your number 1 enemy, oh for the hell of it. I'm gonna be your number 1 enemy, oh for the hell of it. If you like white, I'll be black, if you like black I'll be yellow, if you like rational I'll be impossible, if you like reasonable I'll be insane, if you like peace and flowers I'M GONNA CARRY KNIVES AND CHAINS. I'm gonna be your number 1 enemy for the hell of it, I'm gonna be your number 1 enemy OH FOR THE HELL OF IT."
RIP Ari Up, your contribution to the world can never be overstated. The original rebel punk.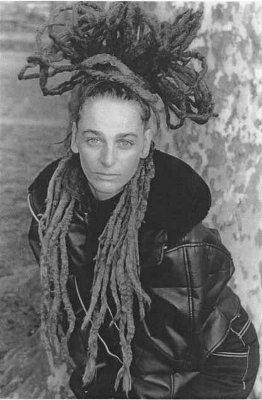 Posted 3373 days ago | By Melissa |
Share this: del.icio.us Digg Technorati Newsvine Reddit Netscape StumbleUpon Google Bookmarks TwitThis
---