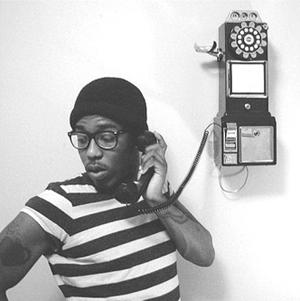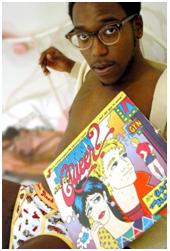 Saturday 10th July @ the Dew Drop, London, 8pm £5
The Younger Lovers with support from The Bumblebees and The Ethical Debating Society, with DJs including a set by Woolf + Zines + vegan food & cakes. Queer punk DIY fun!
The Dew Drop, 58 Stewarts Road, London SW8 4DE
Buses: P5 and N87, nearest overland Wandsworth
The Younger Lovers is fronted by Brontez Purnell, formerly of Gravy Train!!!!, and creator of Fag School zine, as well as current columnist for Maximum RocknRoll.
As well as being a musician and a dancer and probably many other things, Brontez is a writer. I love reading his pieces in zines like Shotgun Seamstress and Maximum RocknRoll, partly because he's just so damn uncompromising in terms of his personality, his politics and his opinions. Plus he's smart and passionate. I'm totally into passionately written pieces. I hate reading things which, while sound in their politics, are just so wrapped up in "how" they're written, or what words they're choosing that it's just kind of dead on the page, and barely creates a spark in me. Brontez probably wants this issue to be done and dusted now, but I just have to post this link which I found one time while looking stuff up about him. His response to a situation in which a member of the band Black Lips was racist, is amazing. It's interesting to read the comments that come after it too, the first one implying that the grammer and spelling is wrong. Oh god. Typical come back whenever someone of colour or a queer or feminist or whatever has a completely justified, passionate rant. That kind of "your grammer was wrong" argument is just like a bloodless fish to me, where's your goddamn pulse, mate?
Anyway, The Younger Lovers is a garage punk band, with a kind of retro sound, like, I want to say 60s girl group, but don't really know why. The Newest Romantic LP was recently released, which features great songs such as:
The Younger Lovers – Kiss me on the Bus
which just make you feel happy to be queer, and you can hold hands with your friends, sauntering down the summer street listening to it.
The Younger Lovers is gonna be amazing, I can't wait.
QueerPunxOfColour 4everxxx
Posted 3490 days ago | By Melissa |
Share this: del.icio.us Digg Technorati Newsvine Reddit Netscape StumbleUpon Google Bookmarks TwitThis
---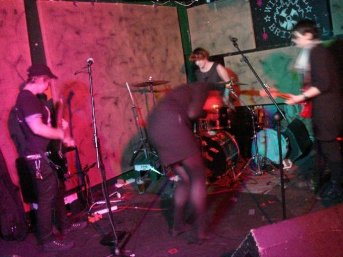 Sounding like the meeting point between Young Marble Giants and
DIY
hardcore,
Woolf
are more uncategorisable than other new London bands playing the queer/indie/punk circuit at the moment, but nevertheless this is a band comprised of members of other bands from these scenes:
Roseanne Barrr
,
Corey Orbison
,
Gender Fascist
& NZ girl punk band
Toxic Shock Syndrome
, among others.
The name "Woolf" kind of makes me think of serious, book reading, woods-walking girls with a penchant for fierce animals and whiskey drinking. Which kind of describes the music pretty well, actually.
Woolf have a sort of "offness" and an awkwardness about them, which at first I put down to the idea that maybe the band members (Colette on vocals, Sophie on drums, Georgina on guitar & Irene on bass) were all perhaps bringing their own idea of what sort of music Woolf should be playing; this was a new band after all, and I wondered if there was a bit of a schism between the "punk" and the "experimental". After seeing a few of their shows, however, I realised this was the point of Woolf, they exude a no-wave, dark punk sound which resists categorisation and provides a challenging listen. When they're on, their "off" is amazing.
The last show I saw them at (Brighton Queer Mutiny at the Cowley Club), their timing was spot on and the menace & often anti-climactic bad-mood, ellipticism was perfectly evoked. (You probably don't know me, but let me tell you, "anti-climactic, bad-mood, ellipticism" is a very good thing). Most of their songs leave you unsettled. A few, like "December" are out-and-out girlpunk, and easier to get your head around.
Colette's vocals are outstanding. "Witch" is my favourite – "I met you…in Dulwich woods"...What is this song about? Dunno, but south London never sounded so creepy.
Woolf are playing next at Club Milk, along with Bellies, Covergirl, Drunk Granny & Peepholes. So go see what I mean. They have a tape you can buy too.
Posted 3516 days ago | By Melissa |
Share this: del.icio.us Digg Technorati Newsvine Reddit Netscape StumbleUpon Google Bookmarks TwitThis
---