It was a packed house last Tuesday night at Madame JoJos in Soho. I guess I shouldn't have been surprised, given that the headlining act was JD Samson's latest project MEN. I mean, on the one hand MEN hasn't received the kind of media attention JD's most famous band, Le Tigre, did, but on the other hand, MEN's concept of mixing dance music with worthy lyrics is a pretty winning combo as far as queer audiences are concerned, and JD has been involved with so many different artists over the years, she has garnered a fan base all her own.
MEN was orginally a DJ/remix outfit, consisting of Johanna Fatemen & JD, which was good news for Le Tigre fans, as that band went on indefinite hiatus in 2006. The name MEN came about as they asked themselves "What would men do?", vowing to always do that, and more.
MEN began to develop as a band with original songs, but then Johanna Fateman had a baby, so JD was joined by Michael O'Neill and Ginger Brooks Takahashi from queer art collective LTTR, who added guitars to JD's synth.
I have to admit, before Tuesday I had only listened to the early incarnation of MEN, and I wasn't all that keen, being a grumpy old woman who is not particularly into upbeat dance-type music, and I missed the punk attitude of Le Tigre. I was mainly going along out of curiosity, and because I always love seeing JD perform.
Well, I have to say that while the songs are still firmly rooted in the disco camp, I loved MEN. The inclusion of the guitars, the spirit of the lyrics, and the visual spectacle all combined for an amazingly warm, totally fun show. The costumes (mediaeval chain mail helmets, purple lycra body suits, a paper house JD wore on her head), as well as the backing dancers who held up protest signs saying things like "Fuck your friends" (for the song about making gay babies), made it clear that MEN is more than just a band, and they're keen on making the elements of politics, art and queer fun equally important – much like Le Tigre, come to think of it. But MEN are a band in their own right, and it's unfair to keep bringing in the Le Tigre references, I was completely impressed and utterly won over.
Opening for MEN was London band Trash Kit, who I raved a tiny bit about in an earlier post. Trash Kit are great, full stop. But I couldn't help feeling that while as musicians they no doubt enjoyed the good sound offered by Madame JoJos, it took something away from the music, made it cleaner, neater, which always tends to make me feel more distant from any band (and seems incongruous when a band is playing with torn up cymbals).
The inclusion of Ros Murray (Electralane, Lesbo Pig) on bass was a good move, as Trash Kit's sound tends towards the no wave/tribal post punk which really was calling out for a bass to develop it further, but again, I guess due to the "good sound" I found the bass somewhat overpowering on Tuesday night, and preferred Trash Kit's earlier performances in less fancy places with Rachel on guitar, and Rachel on drums. I guess I'm something of a sucker for shambolic, chaotic, raw sound. However, I'm looking forward to seeing them again as a trio in a different venue. How could I not love a band that does a song about being mixed race (Filipino Song)?
I'm super excited about their forthcoming release, and I'd say, play alongside your ESG, Raincoats, New Bloods & YPants records.
MEN – Off Our Backs (video by K8 Hardy from LTTR)
Posted 3645 days ago | By Melissa |
Share this: del.icio.us Digg Technorati Newsvine Reddit Netscape StumbleUpon Google Bookmarks TwitThis
---
I'm sitting here listening to a recording of my friend Alex's show on Fleet Fm, Auckland's free form radio station. She & Kat do swapsies on Saturdays on the "Queer Not Folk" show (awesome name). I used to do shows on Fleet too, back in the olden days of 3 years ago or so (see early posts on this blog, which have my playlists and a few silly recordings).
I love the magic of the internet which lets me listen to my friends play records on the otherside of the world, and reminds me of what the New Zealand accent really sounds like (it's teeen thurtyseeevun, eh Alex! * love *). I was even lucky enough to get a dedication from Sam, who was doing a show on 95 bfm on Thursday last week, his Auckland 11pm or so, my London 10am boredom in the library office, trying to stay sane. It definitely made clicking my mouse around the computer a lot more warm and fuzzy.
Anyway, it also kind of made me a bit sad, cos I haven't really been all that excited about music much lately. Which is pretty odd, considering I now live in London and have my pick of, like, 4 gigs a week, plus cheap records and amazing record stores etc etc.
I can only put it down to settling in issues. When I was in Auckland and was doing a radio show, and updating this blog more often etc, I had more motivation to hunt out new music. Plus, gigs were always in 1 of 3 places, all within walking distance of my flat, and all of which people I know would definitely be at.
Which totally sounds like me whingeing and copping out, poor Melissa, has to catch the bus all the way to South London to go see the Slits or whatever….It's not really like that, I feel super appreciative of the fact that there is so much to choose from here, but I guess yeah, the travelling that is so inevitable in London can get me down (especially after commuting to and from work Mon-Fri – bleuchy boringness), as can the occasional lack of a gig buddy. I shudder to think about how many amazing shows I've missed, merely cos I've been too lazy to go to a gig on my own. Obviously I lack commitment! This is the sort of thing that happens when you move to a new country, right? And other people manage to sort themselves out and go anyway, right? So I'd love to know some tips for solo-gig going so I can learn to get over myself! What does one do between sets? And, take a book, or just stand around looking gormless, pretend to text someone or, horror of horrors, strike up conversation with a stranger? Get drunk or no? What about if it's not just a straightforward gig, but more of a club night gig, with a band playing in the middle that you really want to see? huh? huh?
Near the end of last year, I made a rough list of the number of bands I've seen since I arrived in London. The list came to roughly 50, which, if you consider most gigs have around 3 bands each really only works out to me going to 1 gig a month (this is not counting DJ nights, or btw, punk gigs which I occasionally go to with my girlfriend, but generally have no idea who is playing, so don't think it counts to add to my list, fun as they are). That is a really piss-poor amount of shows, and I aim to try harder this year!
Here is a list of shows coming up in London which I am really and truly going to make a big effort to go to, and which I am excited about, to boot:
MEN w/ Trash Kit + Bunny Come
Vivian Girls w/ Male Bonding + Trash Kit
Hole
Dum Dum Girls w/ Male Bonding
U.S Girls
The Magnetic Fields
....Is this enough for now? More to come I'm sure.
Posted 3653 days ago | By Melissa | [2]
Share this: del.icio.us Digg Technorati Newsvine Reddit Netscape StumbleUpon Google Bookmarks TwitThis
---
MIA's new album is meant coming out mid-this year…Here's a new video which she recently posted on her Twitter.
MIA – There's a Space for Ol Dat I See
Posted 3657 days ago | By Melissa |
Share this: del.icio.us Digg Technorati Newsvine Reddit Netscape StumbleUpon Google Bookmarks TwitThis
---

Read the Rough Trade review of Comanechi's debut album, released near the end of last year: www.roughtrade.com. Sounds amazing, and I want it, please.
I meant to write more about how much I love Comanechi etc etc, but then xxxmas etc got in the way, and I didn't. Suffice to say there is an article about Comanechi earlier on in this blog's archive, so perhaps you can just read my ravings from a couple of years ago there.
Posted 3667 days ago | By Melissa |
Share this: del.icio.us Digg Technorati Newsvine Reddit Netscape StumbleUpon Google Bookmarks TwitThis
---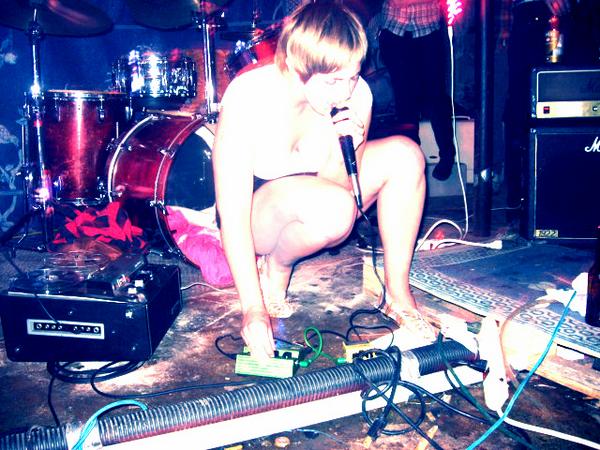 U.S. Girls, who is Megan Remy from the US, don't know much else but it's damn good www.myspace.comusgirlsss & Slitbreeze. Tell me more if you know it.
oh, and she's playing in London 1 March @ Cafe Oto
Posted 3667 days ago | By Melissa |
Share this: del.icio.us Digg Technorati Newsvine Reddit Netscape StumbleUpon Google Bookmarks TwitThis
---