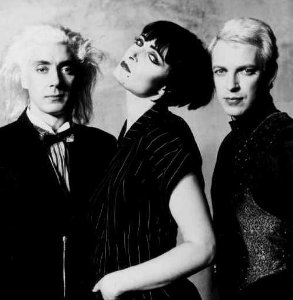 Last weekend I went along to Bird Club's Siouxsie Sioux homage night. I love going to club nights & parties where excessive fandom about a particular band/musician ensues. I remember going to a bar in Wellington, New Zealand once and they just played the whole of Sleater Kinney's Dig Me Out as their background music – Ace! I mean, I guess annoying if you happen to not like Sleater Kinney, or in this case Siouxsie Sioux, but the constant switching between different genres of music, and just playing the "singles" off otherwise amazing albums is all very well for short attention spans, but sometimes you just want more. Well "more" was pretty much the name of the game on Friday at Bird Club, with the queue to get in stretching down the street by 10pm, and the Bethnal Green Working Men's Club heaving with people, surrounded by screens displaying Siouxsie's wonderful, alien face.
I was a late convert to Siouxsie and the Banshees, but on discovering their 1980 album Kaleidoscope a few years back, I definitely had that "where have you been all my life" feeling. And since moving to London, and having now experienced living in estate blocks and visiting squats, subsequently hearing hundreds of people's lives through my bedroom walls, the lyrics to my favourite track, the menacing, tightly controlled "Tenant", have become all too clear in their meaning…
Squatting on doorsteps
following footsteps
nocturnal habits are surveyed with interest
so we crawl into corners-ignore any callers
and imagine our radiators clang for our neighbors
when we crawl on all fours-upon the cushioned floor
still they cling to the wall and knock on our doors
and the tendency for tenants
is tenacity
the paint is cracked and the paper peels
the plaster falls and the body reels…softly
forty watt bulb swing from a light cloud
on lawnmower groan
the carpet has grown
but they have eyes at the keyholes
and ears at the walls
and the tendency for tenants
is secrecy
I'll probably write about Siouxsie & the Banshees some other time, it's inevitable. In the meantime, check out this great review of the forthcoming Bauhaus Ominbus re-issues of In the Flat Field & Mask.
Posted 3740 days ago | By Melissa |
Share this: del.icio.us Digg Technorati Newsvine Reddit Netscape StumbleUpon Google Bookmarks TwitThis
---