Liechtenstein are a band I caught at a twee pop festival in Hoxton, London, a couple of weekends ago…Previously I would've said you'd never catch me dead at a twee pop festival, but I guess perhaps I'm mellowing in my old age?? expanding my horizons?? The intention had mainly been to catch veterans Milky Wimpshake & Comet Gain, Milky Wimpshake were great, Comet Gain a bit of a disappointment since last time I saw them (inexplicably though…perhaps it was just cos they were at the end of a VERY long afternoon so my patience was running thin), but the afternoon was owned for me by Liechtenstein, a 3 piece band of girls from Sweden.
The lead singer's Mo-dettes "White Mice" t-shirt (handmade as she informed me) was a good indication of what they were gonna sound like. But also with elements of quirk, and a touch of darkness too, kind of an echoey loneliness that perfectly evoked European girl post punk from the 80s, and the C86 bands. I was completely enthralled by their sound and their look. I guess I also sort of compared them to the Vivian Girls, who I also saw recently and have the same girl group harmony thing going on, but I think I saw the VGs too late, like, after they'd already blown up and become famous, so they really didn't move me – they seemed more like they were going through the motions (plus they played at the Proud Camden Galleries, ew), whereas Liechtenstein were an unexpected gift, and reminded me why London's so awesome: cos you get to go to gigs to see one thing and then accidently stumble over something else amazing.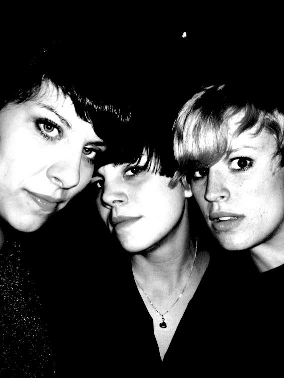 Posted 3963 days ago | By Melissa |
Share this: del.icio.us Digg Technorati Newsvine Reddit Netscape StumbleUpon Google Bookmarks TwitThis
---
Layla Gibbon, previously in UK riot grrrl band Skinned Teen ("Skinned Teen, Skinned Teen, yeah yeah yeah! Skinned Teen, Skinned Teen, yeah yeah yeah!") is the latest co-ordinator at Maximum Rock and Roll, and she posts her columns from the magazine in a blog: whatwewantisfree.blogspot.com.
Her bullet pointed, stream of consciousness-type monthly musings are entertaining reading while also acting like yr cooler older sibling who keeps throwing their records your way, encouraging you to research further and work it out yrself. But at the same time I sometimes find her commentary to be dishearteningly cynical and pessimistic, which perhaps it's cos I'm a dewy eyed New Zealander who has just moved to London and wants to be excited about the underground scene here etc, and she seems to take a pretty dim view of her old country of residence. Regardless, I've read most of her blogs during my lunch breaks at work, and I guess it's pretty healthy if you disagree with someone's opinion, cos it gets the old brain juices working. And there's totally stuff she has written that resonates with me, for example, this from one of her posts:
"....I had a life crisis about what a deadbeat I am and how fruitless my life is, and ultimately decided that it's ok to care more about getting the Church Police 7" than wearing a three hundred dollar organic cotton dress to a party at a beach house where gentle trance music plays as people smoke and discuss wine and the stock exchange and child care options. It's not like I am puking up Sparks in a 7/11 parking lot, I mean I read Celine, listen to King Tubby and drink green tea! Sophisticated like a Flipper song on your headphones whilst walking out to the ocean for the endlessly endless time. Not needing anything else.
4-Thinking about getting a germs tattoo at age 30. What we do is secret. SECRET!"...
I'm turning 30 this year, life crises ahoy…
If you're interested in this blog, you may also be interested in Tobi Vail's Jigsaw Underground.
Posted 3974 days ago | By Melissa | [2]
Share this: del.icio.us Digg Technorati Newsvine Reddit Netscape StumbleUpon Google Bookmarks TwitThis
---