Me & Georgina went and checked out this warehouse gig last night in Manor House (London). We were mainly going to see Drunk Granny play, cos I've never seen them, though my friend Sara who lived in Cardiff when they did too posted their ep to New Zealand a few years ago, which was awesome, and I've been hoping to catch them ever since I got to London. Now relocated to Bristol, Drunk Granny, in particular the lead singer Debi, was described to me as "pure punk" by Sara when she saw them in Wales. Despite Debi being ill last night, Drunk Granny were just what I hoped for. She and her bandmate Sam (on drums) play noise-oriented, kinda dark grrrl punk with total energy, and I loved that they had such an enthusiastic, hardcore fan crew going who knew all the words to their songs.
We were lucky cos also playing last night was Chaps who I've been minorly obsessed with ever since seeing them play with the Corey Orbisons last year in London. Chaps I reckon I can safely describe as a more hardcore/screamo Mika Miko, totally born from that post-riot grrrl, Portland/Olympia punk sound, but, you know, English and stuff. Chaps did not disappoint, and I remain obsessed. I've heard a release from them is forthcoming…
The new discovery of the night was Trash Kit who I will definitely be checking out again. Band members Rachel A & Rachel H evoked a tribal post-punk kinda sound, without the derivative nostalgia, but completely reminiscent of bands like the Raincoats and Pulsallama with their rhythmic and repetitive, pared down, playing-in-the-kitchen sound, and young and raw vocals. I was excited.
Anyway, if you are in London on 21st February, Chaps & Drunk Granny will be playing @ the Red Rose with another of my favourite English queer punk bands of the moment, Husbands ,who are two wonderful boys who sound like pure chaos. Husbands & Drunk Granny have a split 7" out by the way, for your queer listening pleasure: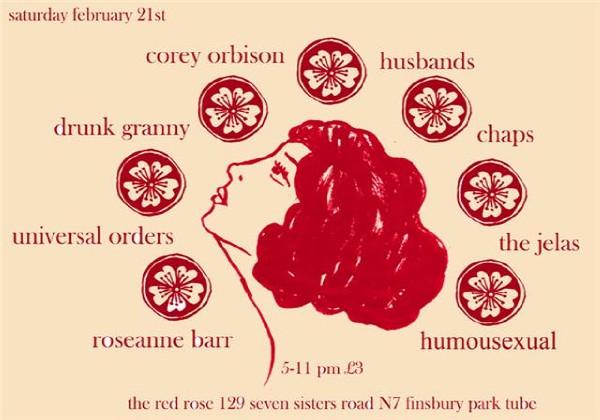 Posted 3990 days ago | By Melissa | [1]
Share this: del.icio.us Digg Technorati Newsvine Reddit Netscape StumbleUpon Google Bookmarks TwitThis
---