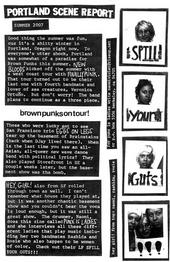 "Shotgun Seamstress" is the name of a zine edited by Osa from Portland band the New Bloods…
By black punx, for black punx, "Shotgun Seamstress" continues in the vein of other critiques/commentaries/celebrations/creations such as the documentary "Afropunk" and the zine "Evolution of a Race Riot", except that this is made for the feminists/punx/queers of today and issues are still being produced (I think number 3 is in the works) so it features articles and reviews about current happenings (as well as delving into the past and bringing to light a whole bunch of bands and artists who more people should know about).
Issues 1 & 2 has writing by US punk/indie allstars like Brontez from Gravy Train!!!/the Younger Lovers, Chris Sutton from Dub Narcotics/Old Haunts/Spider and the Webs, as well as Osa & Adee from the New Bloods and more.
I love this zine! It's great to read about your favourite music genres while also only reading about people of colour…woah, what a novel experience, no need to try and twist around your daydreams so in your mind's eye you look like the white face performing in the photograph…
If you live in New Zealand, you can get this zine from www.cherrybombcomics.co.nz, and I think Microcosm Publishing sell it to everyone else in the world.
www.myspace.com/shotgunseamstress
Posted 4020 days ago | By Melissa |
Share this: del.icio.us Digg Technorati Newsvine Reddit Netscape StumbleUpon Google Bookmarks TwitThis
---
To continue in the vein of dark punk music started by An Experiment on a Bird in the Airpump, I thought I'd mention a band that I have just come to, 4 years too late…
The Vanishing started off in San Francisco in 2001, ending in Berlin in 2005. Featuring Jessie Evans, previously from all-female death rock band Subtonix (vocals/sax/bass) and Brian Hock (drums) and then later Billy (keyboards, bass) and Sadie Shaw (keyboards), The Vanishing could be described as cabaret punk, or gothic electro. Jessie's distinctive saxaphone combined with what has been described as electro-dancehall beats create a frantic and hypnotic maelstrom of sound, and it's definitely fitting that the band eventually moved to Berlin, as The Vanishing sound as though they were born in that scene, and could've played on the same bill as 80s German post punk band Malaria!
And in fact, Jessie Evans went on to form Autonervous with Bettina Koster from Malaria! – a match made in heaven. A track from their self-titled album is also included on Chicks on Speed's Girlmonster compilation of female post punk & electro artists.
Jessie now performs under her own name and has just finished an album Is it Fire , featuring Toby Dammit & Budgie from Siouxsie & the Banshees, among others, which she will shortly be touring.
Check out the video to my favourite Vanishing song, Lovesick:
Posted 4026 days ago | By Melissa |
Share this: del.icio.us Digg Technorati Newsvine Reddit Netscape StumbleUpon Google Bookmarks TwitThis
---