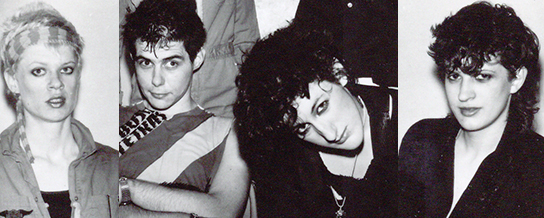 This review is mega late (it's for a show in October), as seems to be the way on Fast Hearts, but then this band is one that spans nearly 30 years, so I guess it doesn't really matter!
The show was the legendary Bush Tetras, playing one London date only, at the Corsica Studios in Elephant & Castle.
Forming in the early 80s around the time of the burgeoning no wave & post punk scene in New York, members included ex- Contortions guitarist Pat Place, Cynthia Sley on vocals, Dee Pop on drums and Laura Kennedy on bass. An early incarnation of the band also featured Adele Bertei, who went on to form all-female band The Bloods, as well as appearing in the Lizzie Borden feminist film Born in Flames. Most recently Julia Murphy replaced Laura Kennedy who now has some pretty serious health problems: in September the Bush Tetras, James Chance and more put on a benefit gig to raise money for a liver transplant that she requires.
In interviews, Cynthia Sley has variously described the Bush Tetras' influences as including bands such as the Clash and Pere Ubu, as well as reggae, hip hop and African music. In a 1980 NME article, Laura Kennedy described the Bush Tetras as a "rhythm and paranoia band". When I first heard their song "Too Many Creeps", I was a bit confused for a while, cos I thought it was the Slits, this was before I knew about the Bush Tetras. They don't really sound much like the Slits at all actually, I guess it was just the early 80s sound, the female vocals and the funky beat, that had me initially confused (I guess I fell into the trap of using the Slits as a mile marker, as lots of people do, as if there could only have been one mostly all-female band playing music incorporating reggae and funk at that time!!). Bush Tetras never seemed to quite hit the level of fame or notoriety that a band, say, like the Slits did, but they were an intrinsic part of the New York art/music scene that included such dance funk bands as ESG, and their influence, particularly Pat Place's guitar playing both in the Bush Tetras and the Contortions is widely acknowledged and respected:
"The Bush Tetras were funky. It was Pat Place, she was the show. She had the credibility because she'd put the funk into the Contortions. "Too Many Creeps" was a club hit. You heard it all the time". (Richard McGuire from Liquid Liquid in Rip it Up and Start Again).
It's always a bit of a worry going to see bands a number of years after their heyday that what you'll end up seeing is a half-hearted attempt to recreate an earlier era, with the band churning out their "hits" but without any of the spark that originally made them so, ending up with a show that is faintly embarrassing…Bush Tetras were not like that at all! I'm not able to compare them with what they were like in earlier years, cos I wasn't there, but I was impressed by their intensity and charisma. They still made you feel like you were seeing something new, their music not just comfortably slotting into the post punk revival (this was a group of stylish older women and men, not yr typical trendy haircut band), and yet their influence on those kinds of bands was quite clear. They looked cool. They sounded great. They made me want to hunt down all their old releases. The intimacy of the gig added to the feeling that you were really seeing "something", I think it was this atmosphere that for example the recent X-Ray Spex show lacked. (This despite the fact Pat Place in Rip it Up and Start Again says that they used to play to crowds of up to 2000 in New York).
The support acts for the Bush Tetras and the Djs did well to set the scene, particularly the first band I saw, whose name I didn't get, and I don't think they were on the poster advertising the show. They were 3 gothed-out women on guitar, bass and drums, who swapped instruments throughout (and the drums were played standing up), reminiscent of Malaria! in the sense that they were quite serious and dark, and that 80s twistedness was evoked further by the bondage porn projected on a big screen behind them. If anyone else who went to this show knows who this band was, please get in contact and let me know!
Check out this 1982 video for the Bush Tetra's "Too Many Creeps":
Posted 4070 days ago | By Melissa |
Share this: del.icio.us Digg Technorati Newsvine Reddit Netscape StumbleUpon Google Bookmarks TwitThis
---
The 3rd issue of the amzing Race Revolt zine is about to be launched, with events to celebrate it in both Manchester and London. Race Revolt is a zine discussing race, ethnicity and identity in queer, feminist and DIY-Punk communities, features a bunch of articles by different people and is edited by Humey from Manchester.
The London launch is Sunday 16th November @ The Pullens Centre, Crampton Street, SE 17 12-5pm.
Check out www.racerevolt.org.uk for the program of workshops.
I'll be involved in an informal discussion on race & music subcultures with Debi from Drunk Granny later in the afternoon…If you have thoughts/suggestions/ideas about this subject please come along and join in!
There'll also be stalls from 56a infoshop & Ricochet! Ricochet!, plus a vegan cafe.
If you are in New Zealand, you can buy issue 1 & 2 of Race Revolt from the Cherry Bomb Comics table at the Wellington Zine fair on Saturday 15th November (same day as the Race Revolt launch in London), and if they don't sell out there, off the Cherry Bomb Comics online shop at www.cherrybombcomics.co.nz.
Posted 4086 days ago | By Melissa |
Share this: del.icio.us Digg Technorati Newsvine Reddit Netscape StumbleUpon Google Bookmarks TwitThis
---