I just came across this song called CAT. It's done by Gina Young (one half of Team Gina), Amy Kasio and Argyle Miss. It's about lesbians who are allergic to cats, and contains the lyrics "I might be a living contradiction, very few ladies suffer my condition. Are you ready for this? Hold onto your hats. I'm a lesbian who's allergic to cats!"
Listen to it on MySpace here!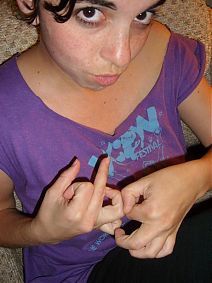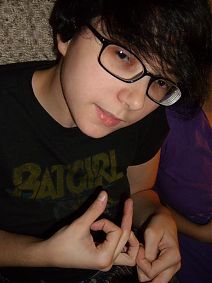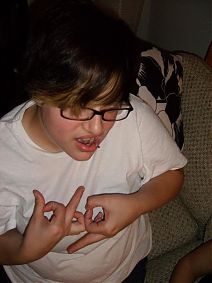 Blog geeks! Photos stolen from the MySpace.
Posted 4591 days ago | By Katie |
Share this: del.icio.us Digg Technorati Newsvine Reddit Netscape StumbleUpon Google Bookmarks TwitThis
---
There's a really interesting discussion happening on the Typical Girls list at the moment. The moderater set the task of compiling a list of must-have CDs from the era Typical Girls covers, for girls 12-15 who will be participating in the Rock 'n' Roll Camp for Girls.
This produced seemingly hundreds of emails from people with their ideas. New Zealand post punk band Look Blue Go Purple got mentioned a few times, which was cool, as well as a whole bunch of other obscure and not so obscure bands (UT, Malaria!, Slits, Lene Lovich, Young Marble Giants etc) with people writing passionately about why they should be included as part of these girls' musical education.
What's the Typical Girls list? This is the blurb from the site:
The Typical Girls listserv is an e-mail based music dialogue and discussion group for the discovery of (and appreciation for) the unknown legends in women's punk/post-punk/underground music history. Typical Girls ideally focuses on the pre-riot grrrl female innovators in music starting around 1975 and ending around 1984.
I highly recommend you get on this list if you are interested in post punk bands of this era, I have discovered tons of new bands through it, and it's always exciting to read intelligent, specific, and often highly geeky opinions about women-made music! Many of the contributors are either from bands of that era (ie. I think one of the Bush Tetras often posts messages), or they are in newer bands and involved in feminist music and art projects (e.g Chicks on Speed, Sharon Cheslow).
This listserv ties in nicely with the archive of punk and post punk women that can be found on www.jennywoolworth.ch, who also posts on Typical Girls. A musical education!
Circumspect Penelope – Look Blue Go Purple

Posted 4610 days ago | By Melissa | [1]
Share this: del.icio.us Digg Technorati Newsvine Reddit Netscape StumbleUpon Google Bookmarks TwitThis
---
Donita Sparks from L7 and the Illuminoids have made a mash-up of Pretend We're Dead by L7 and Alala By CSS!
Listen to Pretend We're Alala at L7's MySpace Page.
Posted 4611 days ago | By Katie |
Share this: del.icio.us Digg Technorati Newsvine Reddit Netscape StumbleUpon Google Bookmarks TwitThis
---